This past week, we were at home in Michigan. It was so nice to see our families and slow down a little bit. The weather was SO nice (fall was definitely in the air) but still warm and sunny. We did a lot of outdoor activities like the sunflower farm, went and saw some horses, lots of walks, and the apple orchard. It was so fun to take Julian to all these places with my family, he really loved it. So after apple picking, we decided to make an apple pie! Here is the recipe we followed for this super tasty pie!
Here is What you Need for Apple Pie
Crust
Make or buy a premade pie crust
Topping
1 cup flour
1/2 cup packed brown sugar
1/2 cup white sugar
1 teaspoon ground cinnamon
1/2 cup butter
Filling
8 Granny Smith apples (or another apple of your choice)
1/2 tablespoon lemon juice
1/2 teaspoon lemon rind (optional)
1/3 cup white sugar
3 tablespoons all-purpose flour
1 teaspoon ground cinnamon
1/8 teaspoon ground nutmeg
The How To's
Preheat oven to 450 degrees F.
Topping:
Combine all topping ingredients in a bowl and mix with a fork until they are well mixed and crumbly.
Filling:
Peel, core, and then slice all the apples into thin slices (about 1/8 inch). Mix in the apple slices with sugar, lemon juice, cinnamon, nutmeg and flour.
Layer apple slices in pie crust (it will be really full) and pour any leftover juice over the apples. 
Then you will top apple slices with your crumble topping and pat it down over the apples so it is well covered. 
Place pie pan on a cookie sheet so the juice doesn't drip into your oven.
Bake at 450 for 15 minutes, then reduce heat to 350 degrees and bake another 45-55 minutes. (Carefully feel the center of the pie to make sure the apples are soft all of the way through your pie).
Serve warm with some vanilla ice cream!
QUICK TIP
Be sure to keep an eye on your crumble topping. Add foil over top to make sure it doesn't burn.
And then you are done! We hope you enjoy your pie as much as we did!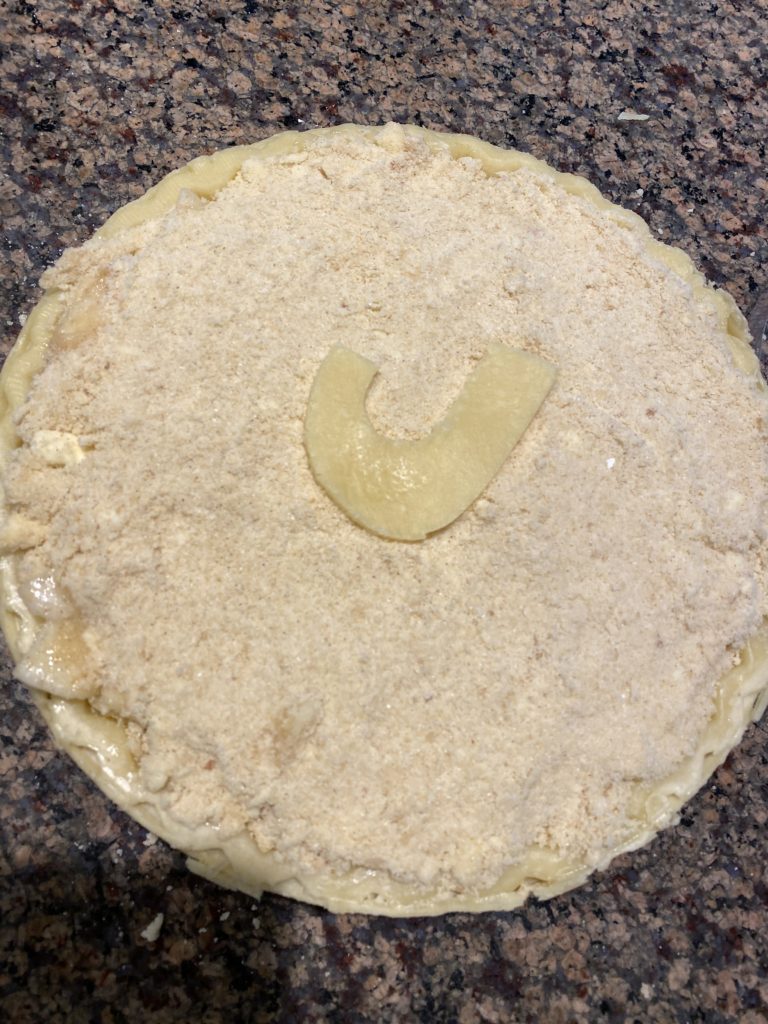 Found from https://www.spendwithpennies.com/the-best-apple-crunch-pie-ever/