LTK Day is a one-day-only sale put on by LIKEtoKNOW.it and you can only shop TODAY. If you aren't familiar, LTK is an app that you download from the app store, where you can shop all my favorite items in one place! If ever there is something you see on Instagram that I have posted, usually it will be on my LIKEtoKNOW.it page as well. Here is a link to my page! So-LTK Day is a sale that is exclusive to the app. So you have to shop through LTK to get the discounts. How it works is you first follow me on the app, then look for the red LTK day symbols on my posts. When you click on a post, click on an item you want to shop- and you will be given a unique LTK day code and a link to shop the item. It is really easy! So, I decided to highlight a few of my favorite places to shop during this one day only LTK Day Sale.
Outdoor voices
I love the brand Outdoor Voices. I have been wearing and enjoying their activewear for some time now. Their pieces feel amazing and the colors are so pretty too! You definitely don't want to miss this 20% discount they are sharing through LTK!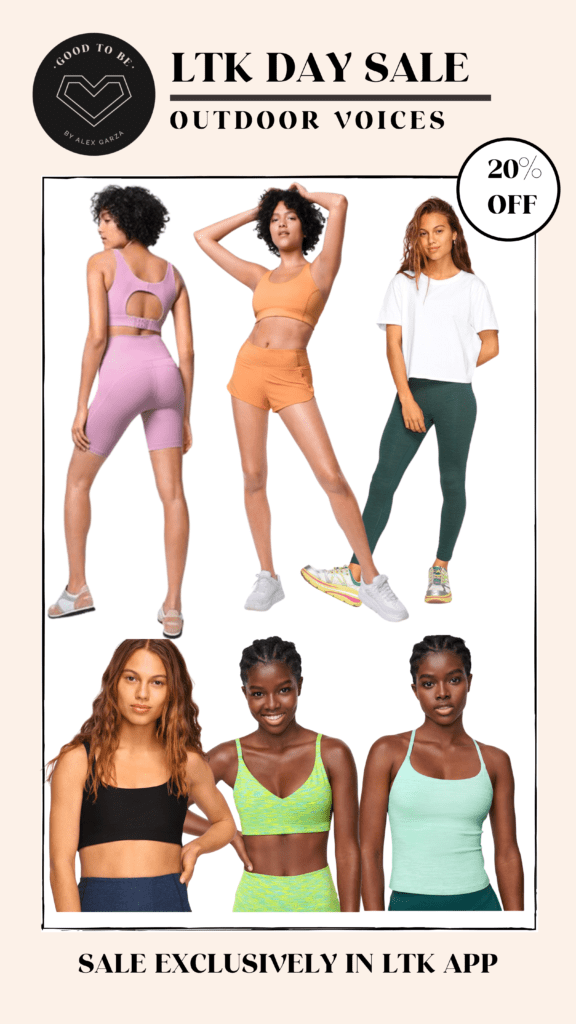 The Styled Collection
The styled collection has lots of great jewelry. The gold bangle below is very similar to the one I wear every day! Check these pieces out during the sale for 40% OFF!
Sam Edelman
Sam Edelman has some amazing summer shoes on sale for 25% off. There are great heels, cute espadrilles, sandals, and tennis shoes. I love how this brand keeps on trend and high quality but stay within a great price point- and even better today at 25% off!
Abercrombie & Fitch
You all know my love for Abercrombie lately! They have such great pieces! They have cute trendy pieces but also so many basics you can wear for a while and in every season. Their jean shorts are some of my favorites that I wear on repeat in the spring and summer! They are offering 30% off for the LTK Day sale.
Frontgate
Frontgate has some amazing furniture and decor! This is an amazing sale too with 25% off all items! If you are looking for anything for your living room, dining room, kitchen or backyard, you should definitely check them out. I know a lot of you ask about my new home decor, so I linked a few things that are inspired by our new decor and very similar to what we have! For example, this outdoor set is SO similar to ours and at 25% off.
Tarte Cosmetics
Tarte is one of my favorite makeup brands. I have used their products for a long time and they are tried and true! The blush linked below is amazing and has so many 5 Star reviews. I also love the shape tape concealer. It really hides everything! Check out their sale and don't miss stocking up on some of these awesome products!