Nashville Date Night Spots
Nashville is such a fun city to live in! We love exploring new restaurants for brunch, dinner with family, lunch, smoothies etc! There are SO many great places to try. While our family is in town we are able to go on a few date nights to check out some of our favorite dinner spots and do some activities together! Nashville is a great city to try new things and always has some fun event going on or unique experience to try. Here is what we are doing on our Nashville date nights! You can watch our latest Nashville Date night vlog here and below!
O-ku Sushi
We went to a nice dinner together at Oku this past week. It was so fun to get dressed up and go out just the two of us while my parents watched Julian and Rocco. Oku is a great sushi restaurant and it is located in the Germantown neighborhood in Nashville. Germantown is a little north east of downtown but very close still. There are so many amazing trendy and amazing restaurants in Germantown, and it gives you a different feel than downtown. O-ku is really good if you're in the mood for sushi and is one of our favorite spots. It's has a great vibe/decor and you can really dress casually or dress up. In terms of food- where do I begin! We ordered their margaritas which are made with coconut milk and are such an interesting take on a margarita. We had tuna, O-ku rock shrimp, and sashimi to start, which were so good. For our main course we ordered the Tennessee two-step roll and miso hamachi tacos. Both had such great flavor as well- you really can't go wrong here. For dessert we had their mochi! Some other amazing restaurants in Germantown are The Optimist, Butchertown Hall, and Henrietta Red.
Drinks & Apps
Main Course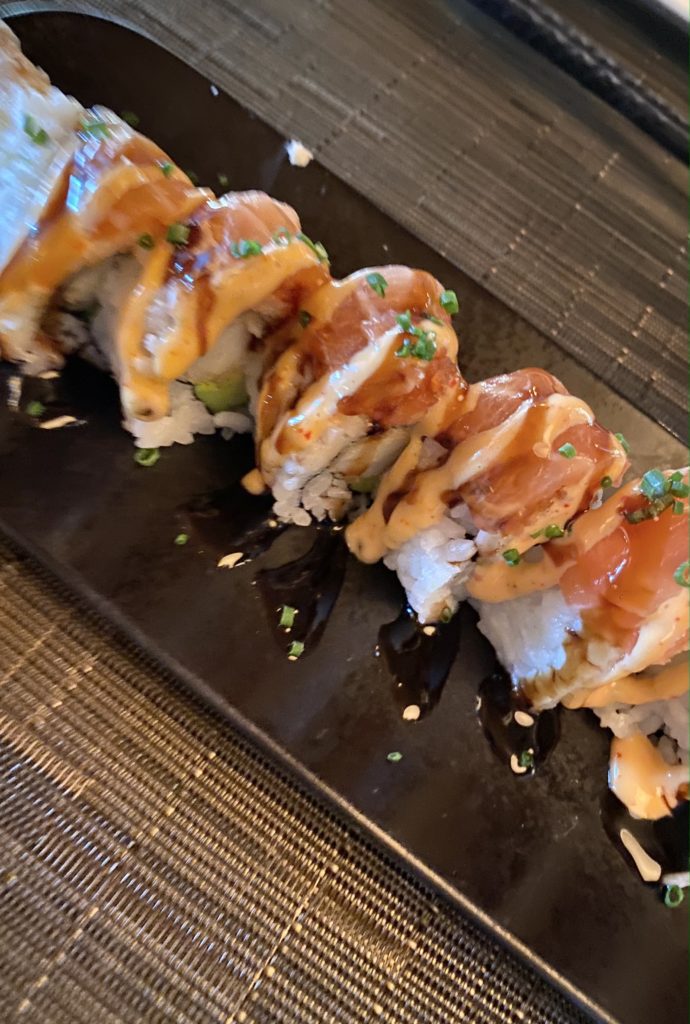 Fifth and Broadway Downtown
Fifth and Broadway is a new development in downtown Nashville right off of Broadway. The development is a mix of nice restaurants and bars and shops and quick eats. There are nice sit down restaurants as well as a large food hall with a lot of casual restaurants like Desano's Pizza and Hattie B's Hot Chicken. Some great restaurants in Fifth and Broadway include Sixty Vines, Blanco's Tacos, and Twelve Thirty. Sixty vines is on the rooftop and it has a great view of Nashville, beautiful patio, tasty Italian food, amazing wine, and a great ambiance. It is a great spot for date night. Blanco's Tacos is right on Broadway and the open-air style of the restaurant makes it great for people watching. On top of that they have amazing margaritas and great food! Twelve Thirty Club is a more upscale restaurant on Broadway and has a very cool vibe and ambiance with live music! This is a great place to get a cocktail and enjoy some music. It would be such a fun date night to check out a couple of these restaurants and then if you're feeling lively- head out to Broadway to keep the night going. Catch some live music and dancing at one of the many honky tonks along the street.
12 South Farmer's Market
Since both of the above ideas are a little more lively, I thought it would be nice to propose a more laid back date night idea. Every tuesday night the 12 South neighborhood puts on a farmers market. 12 South is such a great laid back area with open space, cute restaurants, adorable shops and more. So, the farmers market is nestled right in the heart of the neighborhood. There are tons of food trucks set up, vendor tents, and live music. It would be so fun to go around to each tent or truck and enjoy a casual night together.