We moved to Nashville a little over a year ago, but we recently finished decorating the house with our interior designer, Clare Kennedy. Our kitchen is one of our most used spaces and we love the way it turned out. It is very bright, light, and fresh and we love the woven textures throughout the kitchen design. One of our favorite features are our hanging light fixtures. They bring such a warm feel to the space. We hope you enjoy this home kitchen tour! All the items linked are either the exact item or a close match!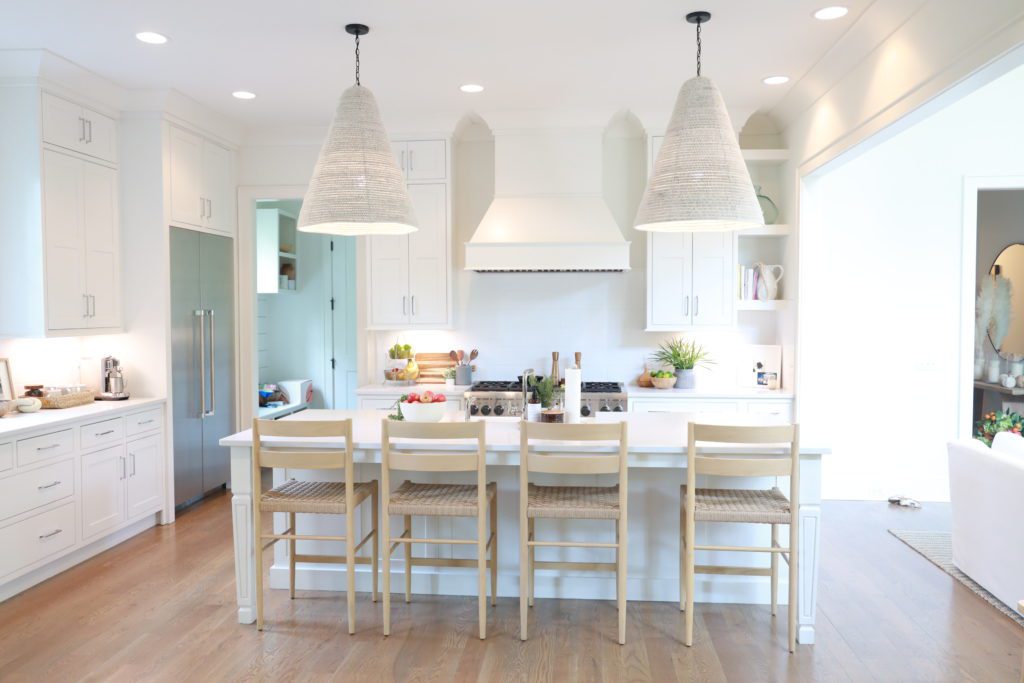 The barstools are from Studio McGee and I really like the look of them. They are a mix between modern and natural that balances out well. The countertops were so fun to design as well. Most of those countertop pieces are from Target or Amazon. For decor, I love the look of a wooden cutting board as an accent piece as well as decorative bowls with bright fruits to liven up a space. We also used our open shelving to add to the design as well. I added a sea glass colored vase, a cute pitcher and some wooden beads as well as our cookbooks. By our sink we created a little area for some of our more practical kitchen items like a pretty soap dispenser, paper towel dispenser, a candle, our counter spray that smells absolutely amazing (linked here) and a faux plant. The touches of greenery around the kitchen add a nice pop of color to the very neutral space.
Our Coffee Station
We use our coffee maker everyday! This Nespresso machine is so good and it makes the best drinks. We thought it would be a nice detail to put a little coffee station next to the coffee machine. It is also perfect for when company comes over. The stoneware mugs are from Target and I love the natural look of them. The creamer is from Amazon and is also in the same stoneware style. I found these cute glass canisters from Target and they have them in several different sizes. You could really store anything in them in the kitchen or even bathroom.
Our Dining Room
I really love how our dining room turned out. With the rest of the house decor being pretty light and airy, I love the darker wood touches and added black in the accent pieces here. Everything was sourced and designed by our interior designer Clare. The chairs I really love with the cane details and black accents and they look beautiful with the table. The light fixture is from Nickey Kehoe and is a really unique piece and focal point for the room. I will link a similar light option here! Below the table we have a really neutral rug called the Alterno Rug, that keeps things muted and lets the decor speak for itself. The art on the back wall is really unique and I really liked how it was abstract and just flows with the whole room. The artist is Kader Boly and you can find the exact piece here, but here is some more neutral abstract art.
It's In the Details…
Bonus: Bedroom Hallway
We love how this hallway turned out. We lined it with a gallery wall on both sides and put all of our favorite pictures in them. These frames are really big and fill up the walls so well. To achieve the same look, try these frames from Pottery Barn!
I hope you enjoyed this tour through our kitchen! This is one of our favorite rooms and we really love the way everything turned out, thanks to Clare Kennedy!