We took a fun family vacation in 30A this past week. It was so nice to getaway and spend time as a family with our good friends. If you aren't familiar, 30A is a stretch of a few towns along the 30A highway in Florida's panhandle. It is closest to Destin and Panama City Beach. But 30A is such a different vibe, so many beautiful homes, clear water, amazing restaurants and cute shops. Some of the towns in 30A are Rosemary Beach, Alys Beach and Seaside. Each are so cute and fun! We also love how kid friendly 30A is. There are always cute activities happening in town that the kids love!
Travel Details…
For accommodations, we rented a home in Rosemary Beach. This is such a nice spot and it was steps away from the beach which was amazing! We loved staying in Rosemary because we could walk everywhere, the beach, coffee shops, and restaurants. The beach on Rosemary is so nice and has rentals so you can get chairs and umbrellas on the beach for the day. We did this for our beach days and it came in so handy, especially when you pack limited items for a flight! We also did a big Shipt order from target and Publix to get some essentials for the week. There is also a small market for basic items called Suncoast Sundries close by. We also rented baby gear from Beach Baby Crib Rentals– a crib, swing, beach tent, and bed rails! That made it so easy for us traveling with Julian and Rocco.
Things we did…
We did a lot of fun things in 30A. It is so family friendly and everything is so close by. We spent a lot of time at the pool, the beach, and at The Hub 30A with the kids. They had all sorts of fun things to do like tie dye, movie nights, dancing, magic shows and more! Julian and his friends had so much fun! We also went to Gigi's Fabulous Kids to do some shopping for the kids! They have the cutest toys and clothes for the kids and Julian had a great time going in there. It is also right in downtown Rosemary Beach.
Dining…
There are SO MANY good restaurants in 30A. We loved all the nice meals we had and there are obviously so many good patios too!! So much seafood and and great flavors. All the beach towns along 30A have great options so it was fun to bounce around from town to town to explore all they had to offer.
George's
One of our favorites was George's in Alys Beach. It was an amazing outdoor restaurant with amazing food. We started with a lobster quesadilla, the fish tacos and some great apps and drinks. This is a good spot for kids too because of the outdoor area and friendly vibe. We went to lunches here a couple times.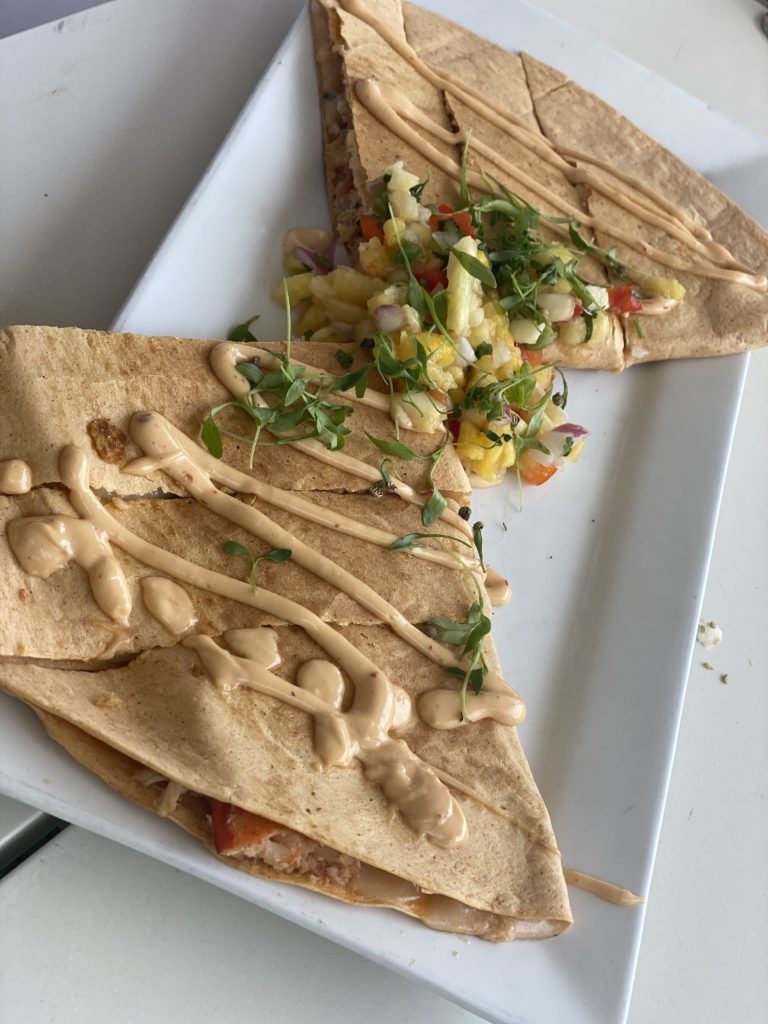 Pescado
Pescado is one of the nicest restaurants in Rosemary Beach. It is right in the heart of town and we were able to walk from our rental house. The upstairs patio has an amazing view of the beach which is so nice and sets the perfect ambiance for an evening dinner. So I would recommend requesting to sit outside. We had a fantastic meal here. We had the Tomahawk for two (SO good) and the sea bass- highly recommend both. For cocktails, we had the honeymoon drink which is a refreshing take on a margarita. For dessert, we had the cobbler which was great!
The Citizen
Citizen was in Alys Beach and was a great fresh seafood and coastal cuisine in a cool modern vibe. We had a really good meal here our last night in 30A. They have an amazing selection of oysters and seafood to choose from!
Coffee & Donuts
In the mornings we loved that we could walk to the main downtown of Rosemary Beach from our house. One of our favorite places to grab a coffee was Amavida Coffee downtown. They had a great iced coffee with coconut milk that I loved, as well as their avocado toast and scones! Then we also went to the Donut Hole a little ways down from Rosemary Beach. The kids loved it there and we always got the pink sprinkled donuts.
The Pearl Rosemary Beach
The Pearl in Rosemary Beach is a beautiful boutique hotel. If you are looking for a good hotel to stay at on 30A this would be amazing. It is right downtown Rosemary and it is steps away from the ocean and has a huge lawn right in front of it. Since we stayed in a house this time, we decided to do a couples massage which was awesome and near the pool. We loved that since we went to their spa there, we got access to the pool for a few hours during nap time afterwards. Otherwise you need to be a guest to use the pool. There's great food by the pool too. We had spicy margaritas and espresso martinis and you'll have to try the wings for lunch or dinner! We would say this is the perfect spot for a couples trip or adult vacation.
Overall, we had an amazing vacation in 30A and really enjoyed ourselves. There were so many great things for couples, kids, and people of all ages so it was amazing. With it being a short flight or 6 hour drive from Nashville, it's a great family vacation spot for us!